Welcome to Sunflower Class
Your class teacher is
Miss Smith.
Qamile Rashica is our Teaching Assistant and we also have Jo Butler and Rebecca Goodheart in the mornings and Laura Stone in the afternoons.
PE is on a Tuesday
Here we are in the second half of the Autumn Term and how time has flown by already!
We have enjoyed getting to know your children and have been doing some fantastic learning and playing together.
This half term we will be learning about 'Witches and wizards', Remembrance Day, keeping our teeth healthy, People who help us and Christmas. Please see our plans on the sheets.
We are also continuing to learn the next letter sounds from Read, Write Inc Set 1 as well as practicing our sounds skills to read and spell words.
In maths we will be practicing Cardinality and Counting, Comparison and Composition with the numbers up to 10. Also, looking for and making patterns. Learning and understanding about Shapes and Space, and through measures - comparing different aspects such as size, length, weight and volume.
The children also have a challenge we set – show us how you fasten your coat independently. Your child can receive a certificate for doing so.
It has been so good to see your posts on the Tapestry journals, showing us what you get up to at home, the children love to talk about these photos to their class. Please continue to do this, thank you.
Miss Smith
What are we doing this half term?
We have a new maths curriculum that we are following in Reception/Year 0.
It is called Mastering the Curriculum.
It supports the NCTEM scheme that we have been using since the start of term and also supports the White Rose Maths Scheme that's the rest of the school uses.
Please see the image below for the overview of this Autumn Term.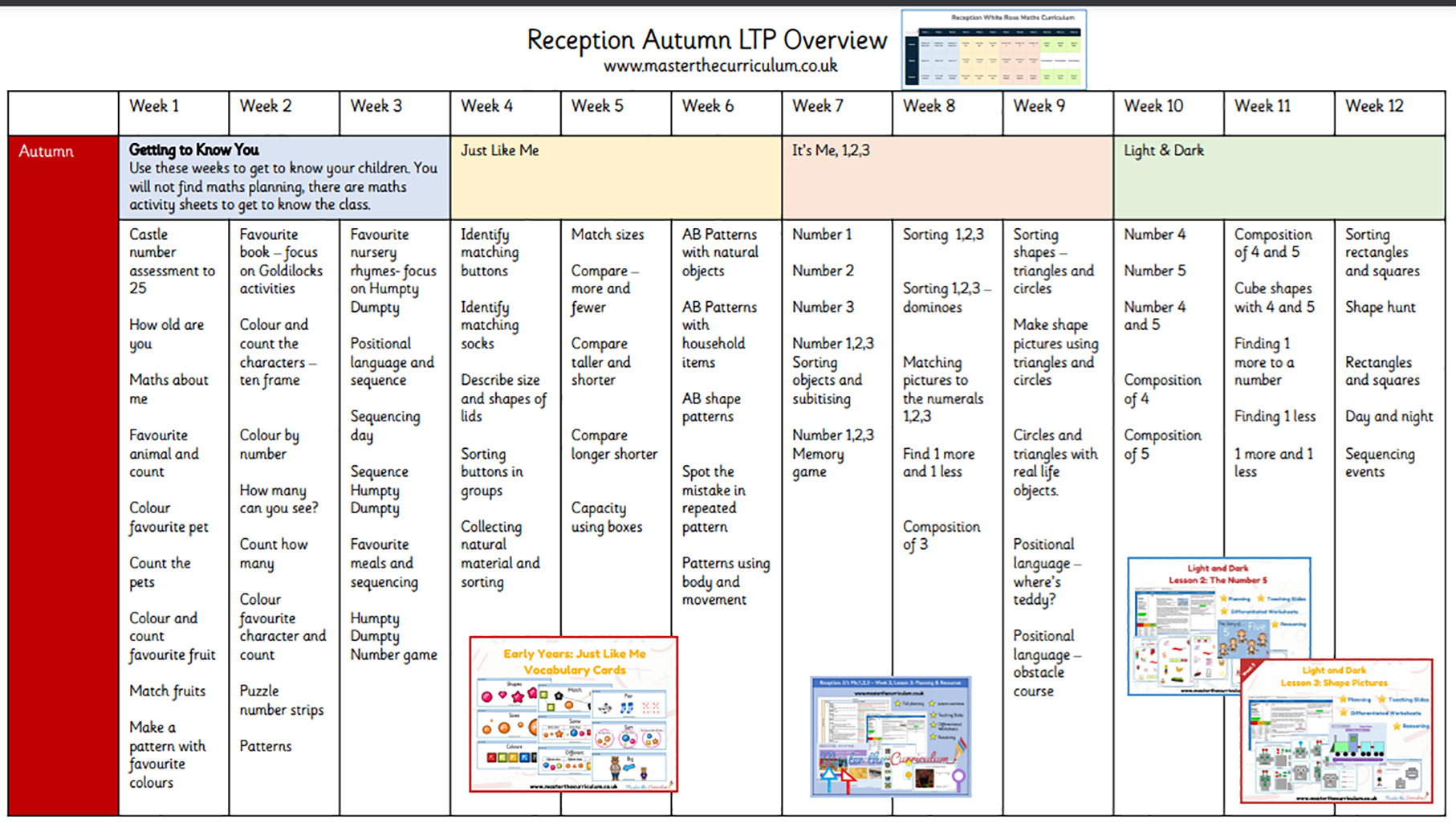 Please ensure your child has all their uniform, coats, P.E. kit and bags labelled clearly. Thank you.
School lunch
All children in Year 0 are entitled to a free school meal.
The menu is designed and cooked from fresh by our experienced catering staff every day. The menu runs on a 3 week timetable and can be found here.
Every child is entitled to lunch and it is a good social and learning experience for the children as well as saving you making a packed lunch every day!
The Early Years staff have lunch with the children to encourage tasting and eating a variety of foods and good table manners.
Please come and ask any member of the Early Years staff anything you are unsure of. Every morning there is a member of staff at the gate that you can speak to. If it is something more detailed you can make an appointment to see the teacher after school.