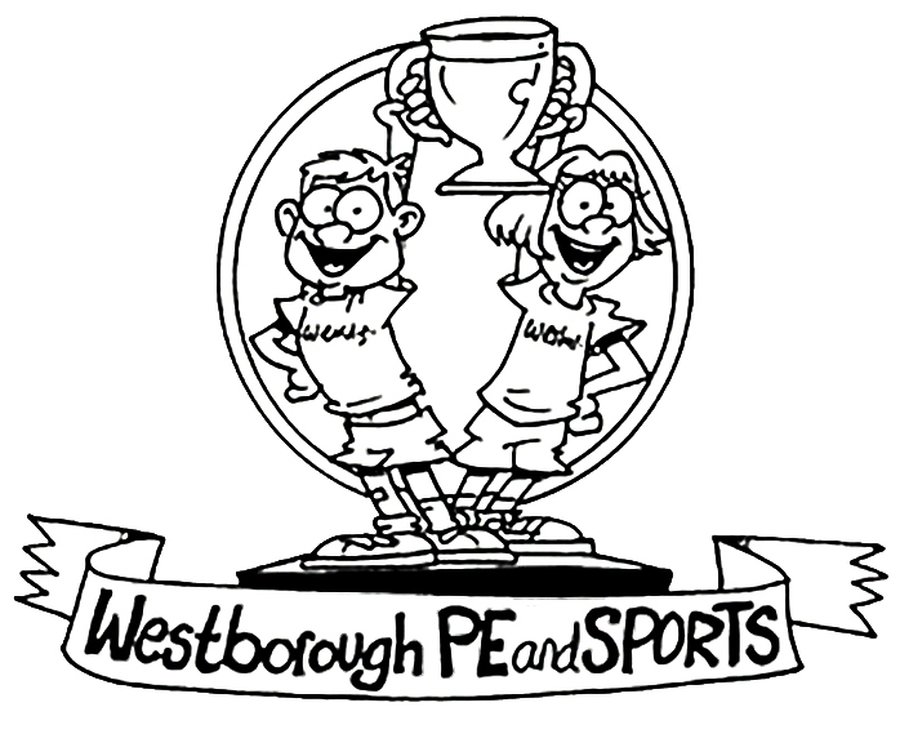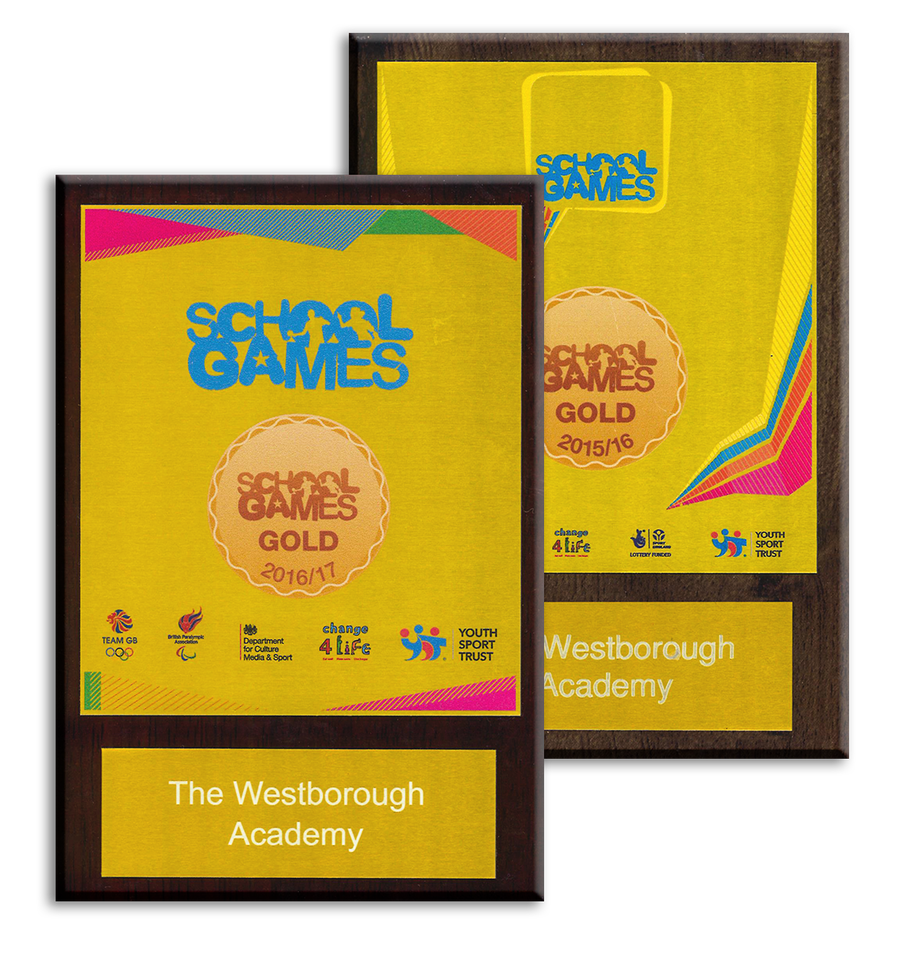 IF YOU BELIEVE YOU CAN ACHIEVE! IF YOU BELIEVE YOU CAN ACHIEVE! IF YOU BELIEVE YOU CAN ACHIEVE!
A message from Mr Funa
"We are proud to announce that The Westborough Academy have once again achieved the GOLD School Games Mark Award, this time for the 2019/20 academic year.
The School Games Mark is a government led award scheme launched in 2012, facilitated by the Youth Sport Trust to reward schools for their commitment to the development of competition across their school and into the community, and we are delighted to have been recognised for our success.
We are extremely proud of our pupils and their dedication to believing, achieving and improving their Personal BEST. This year we are aiming to add 2 new Level 1 Intra-House Competitions including - possibly - a Swimming Gala!"
Follow the link to more about the award https://www.yourschoolgames.com/how-it-works/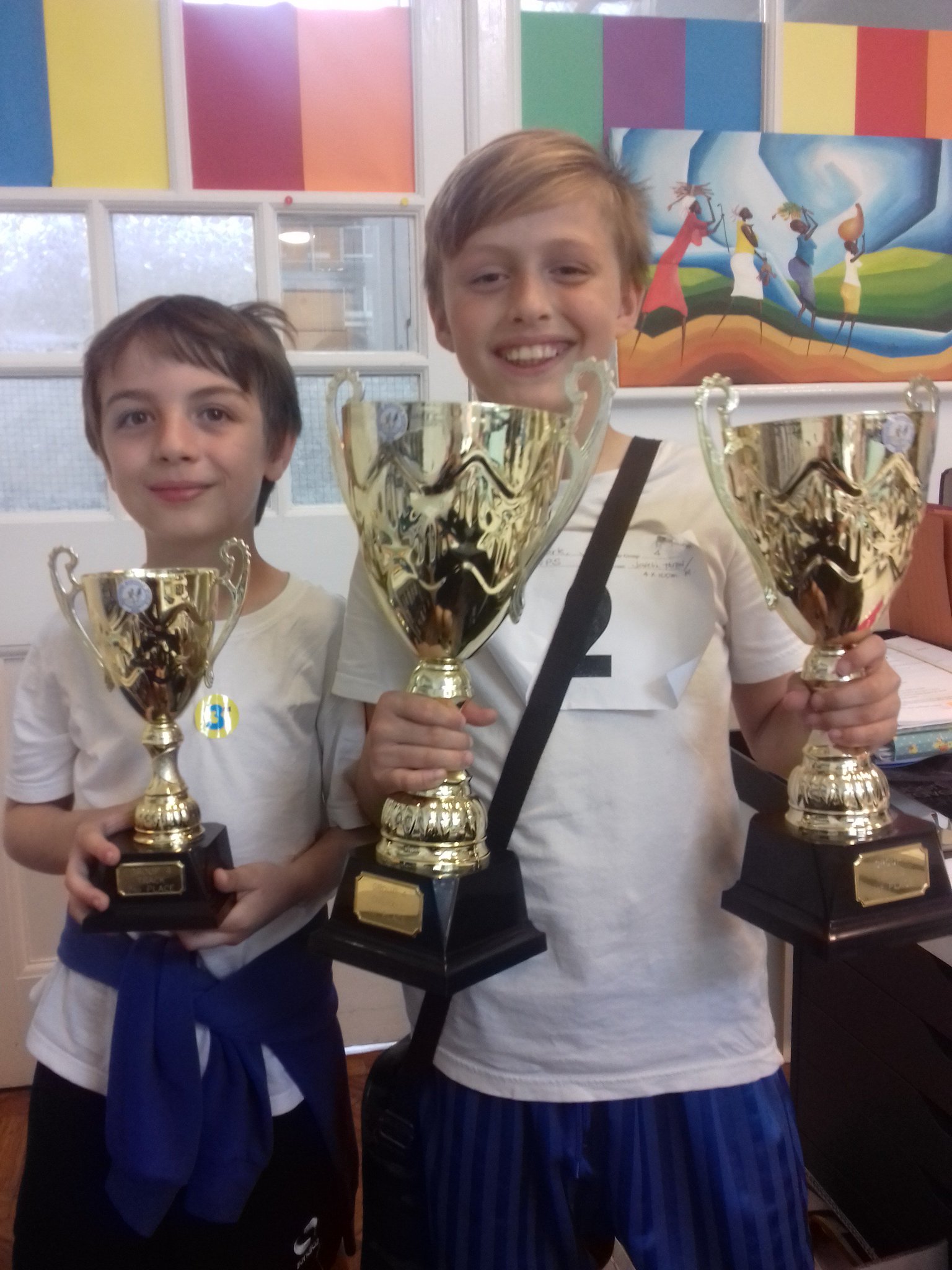 Westborough win the Southend Borough Sports Group 4 competition
Congratulations
an amazing result for children with no track or field to practice on!
Congratulations and well done to our New Age Kurling and Boccia Teams who showed superb
composure and determination against 14 and 12 schools respectively in the competitions held at the Garons Leisure
Park. Both team secured Silver Medals and the opportunity to represent not only our school but all
Southend schools in the coming Essex Winter Games Finals next year. Good Luck teams!

BASKETBALL Two teams from Westborough played their first pre-tournament match against Hamstel School last Monday night. Team A, from Year 5, beat their opponents with an impressive 31-12 points, while Team B, from Year 6, came from behind to claim victory with 31-21 win.
Teamwork and determination was the key their success.
Well done boys and girls!

DODGEBALL Well done to our Year 5 and Year 6 teams who competed in the Southend Primary School Dodgeball Festival at the Garons Park Leisure Centre. Year 5 played 14 games in the morning, winning 12, drawing 1 and losing 1 – great work! Year 6 started the afternoon well with 2 wins and 1 loss, advancing to the quarter finals but sadly losing in the knock-out round. Well done to both teams!

Well done to our Year 6 Goalball Team who all tried their very best during the
Southend Goalball Tournament at Garon's Leisure Centre.
Goalball is a paralympic sport for visually impaired athletes. The object of the game is to score goal
by throwing the ball ( designed with bell inside) into their opponent's goal.
The game has been adapted to allow able bodied players to play by wearing a blindfold.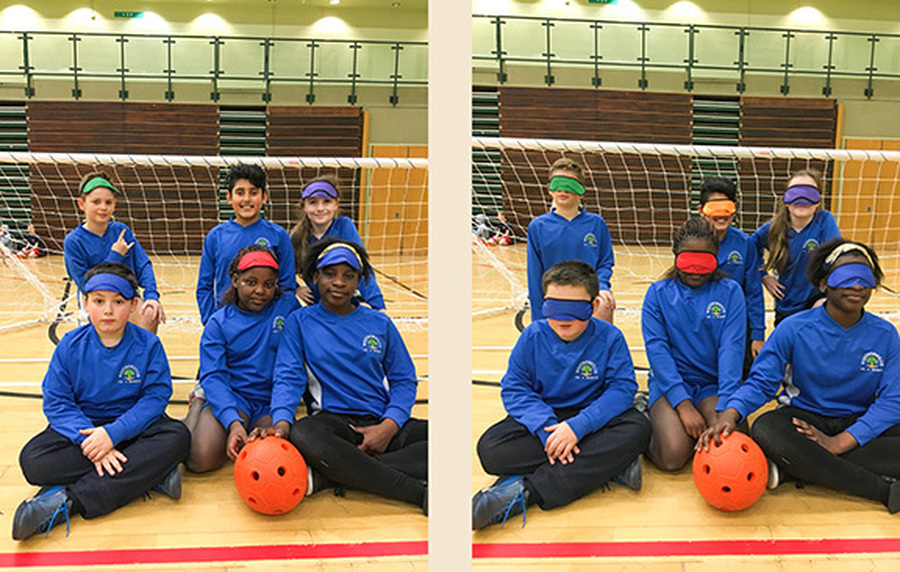 Congratulations to Year 5 Tag-Rugby team who all showed great self belief and determination
when they played against 7 other schools last Friday at the Tag Rugby Festival at the Southend Rugby Club.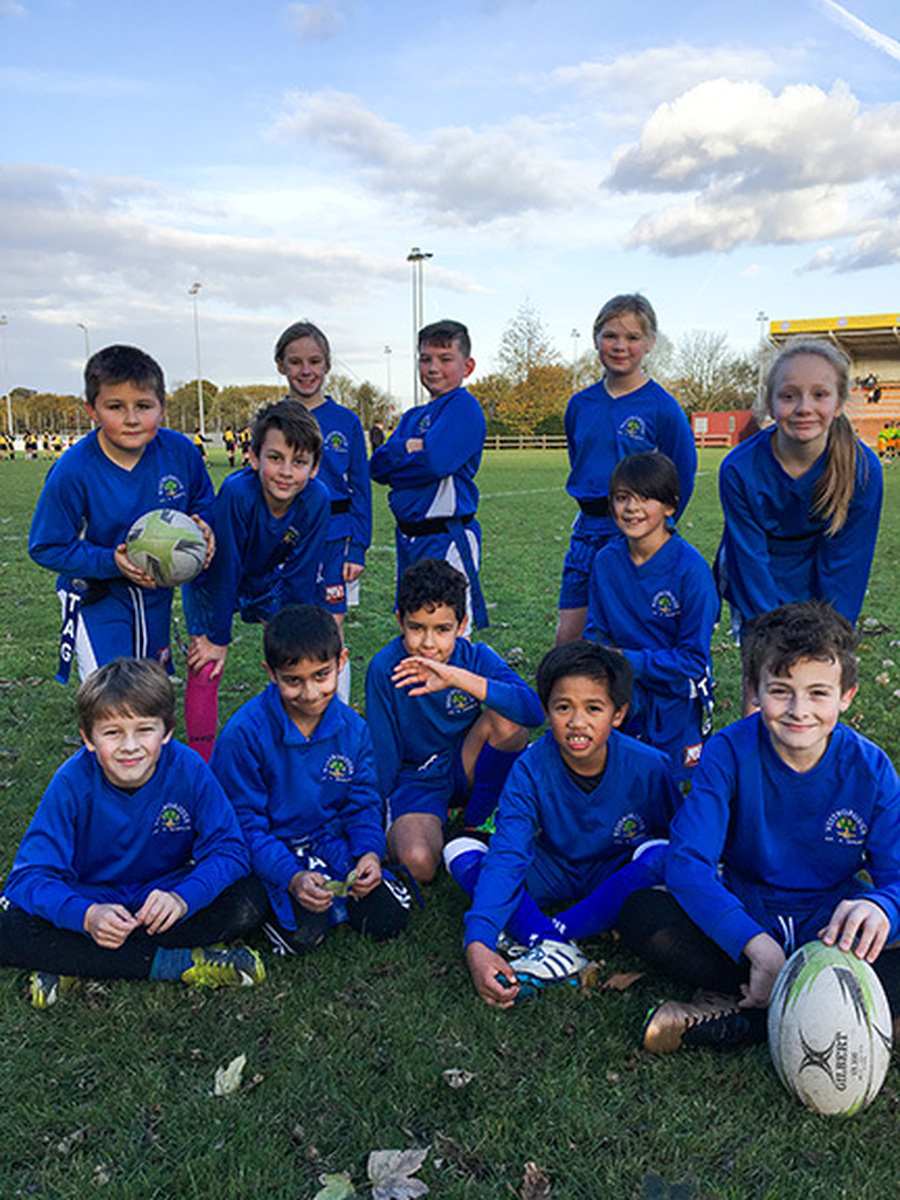 On Friday 13th October our year 5/6 Girls football team took part in the annual SPSSA Girls Football Tournament. 18 Schools took part making it their biggest ever girls football event.
Our girls got off to a good start, winning their group with a draw against Chalkwell and wins against Friars, Richmond and Greenways.
Round 2 saw our girls top their group again with a draw against Our Lady of Lourdes and wins against Earls Hall, Fairways & Bournes Green.
Our girls then faced West Leigh in a semi final, after taking the lead we were eventually narrowly beaten 2-1, just missing out on a place in the final.
Our girls picked themselves up showing TOGETHERNESS and DETERMINATION to beat Bournes Green 1-0 in a 3rd place play off.
BRONZE for WESTBOROUGH!
WELL DONE GIRLS!

Well done to our Year 5/6 Boys Football Team who drew their first League match of the season against Darlinghurst last Thursday. The Boys were 2-0 down with 15 minutes to go. Teamwork, Determination and Self Belief were the key ingredients again for the team as they came storming back to level the match 2-2, then hitting the post in the final minute denied the team a possible win.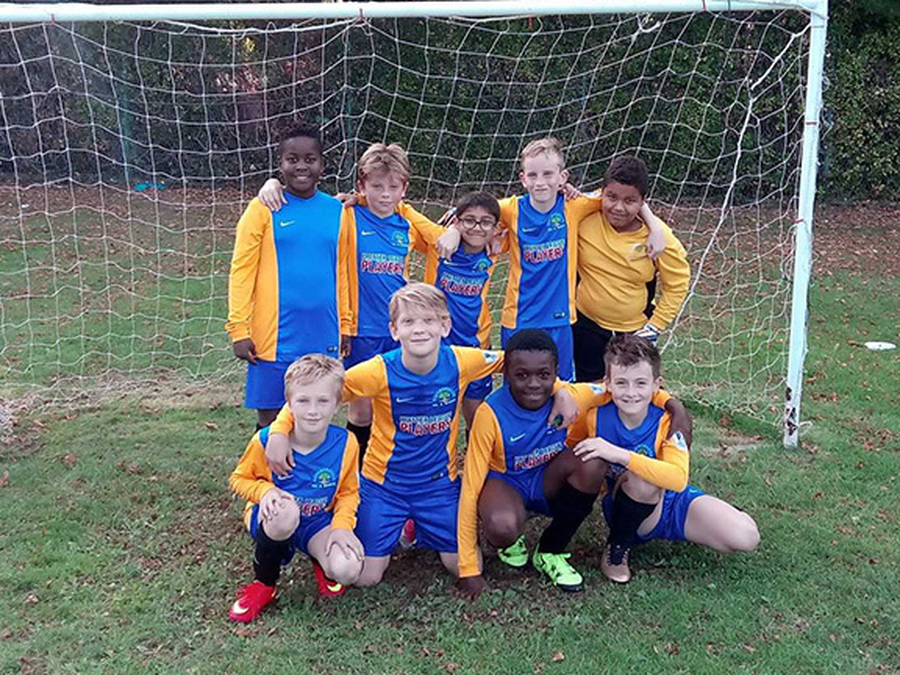 A BIG WELL DONE to our year 5/6 Boys football team for their performance against St Mary's School last Friday. After letting a 3-0 lead slip in a crazy 10 minute spell, the boys showed excellent TEAM SPIRIT, RESILIENCE & DETERMINATION to pick themselves up and keep going.
The Final Score
4 - 3
To WESTBOROUGH!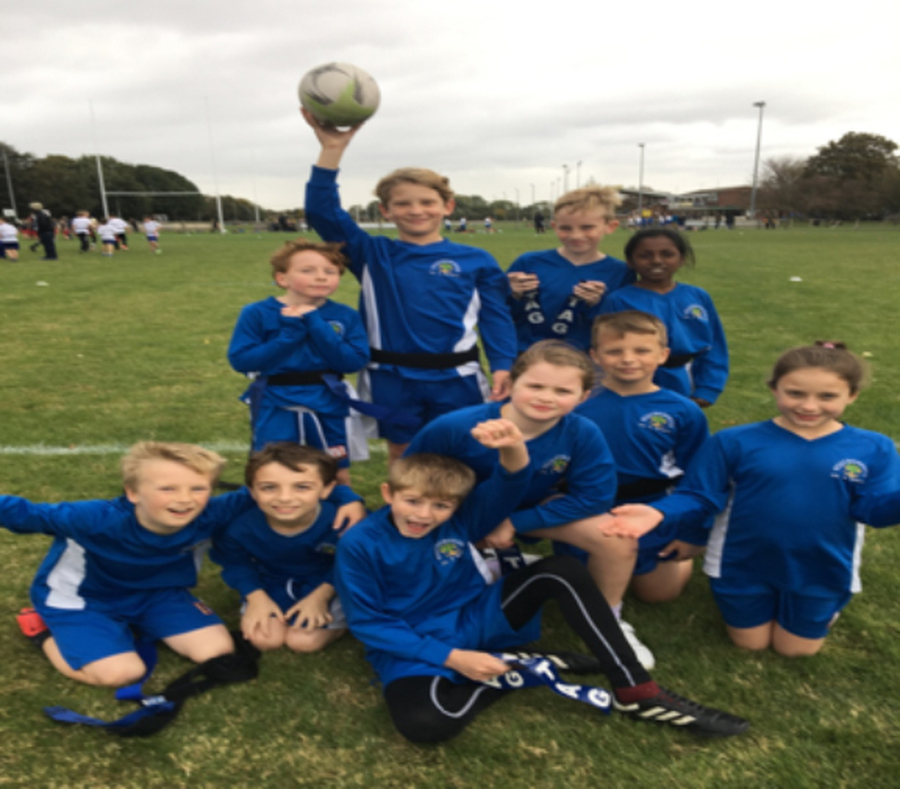 TAG!
Southend Rugby Football Club hosted this year's annual Year 5/6 Primary Tag Rugby Competition. 20 teams, including our squad, put their skills to the test. The first round games were as expected, as our team got used to playing in the field. A big change for Westborough, as the team train and practice in the Lubel Hall at school. In the second round, as the team adjusted to the field, their hard work began to pay off. Westborough won against Blenheim (3-2), Thorpe Hall (4-2) and Thorpedene (3-1), finishing top in our group with a 3-0 win-loss card.
Excellent work Team!
Well done to our Table Tennis Boys & Girls Team who took part in the Southend Table Tennis Tournament held at the Thorpe Hall School. A total of 24 schools - 13 and 11 teams for boys & girls respectively participated in the competition with the winning team advancing to the Essex Finals.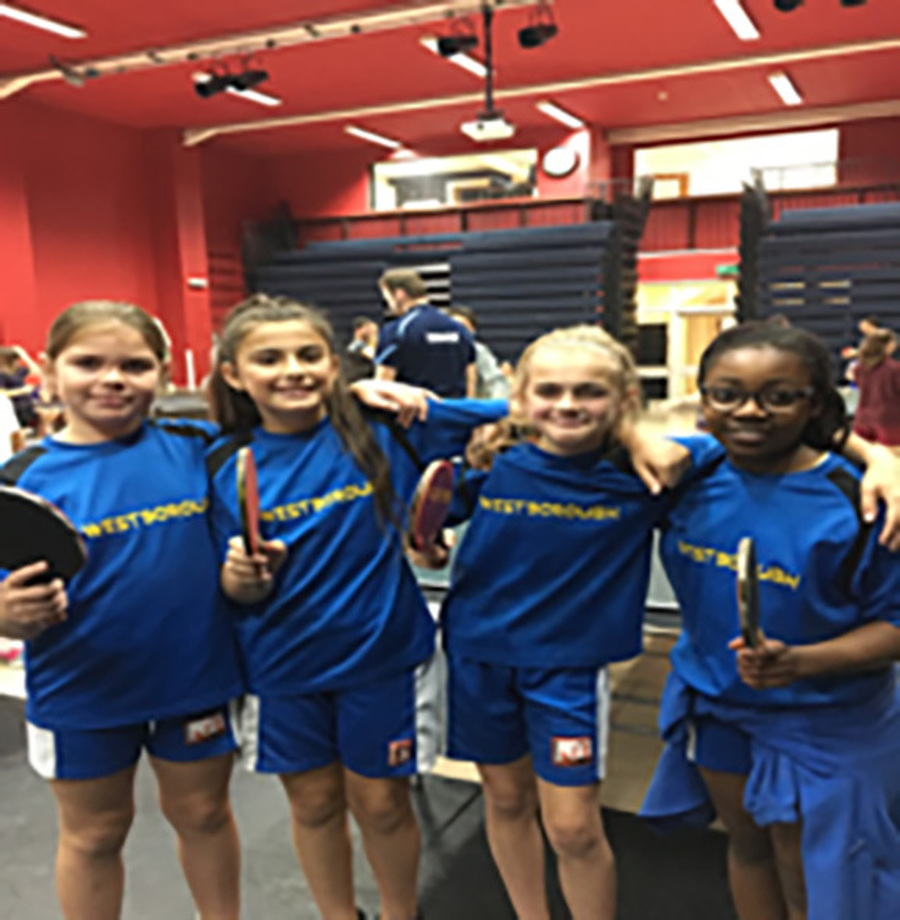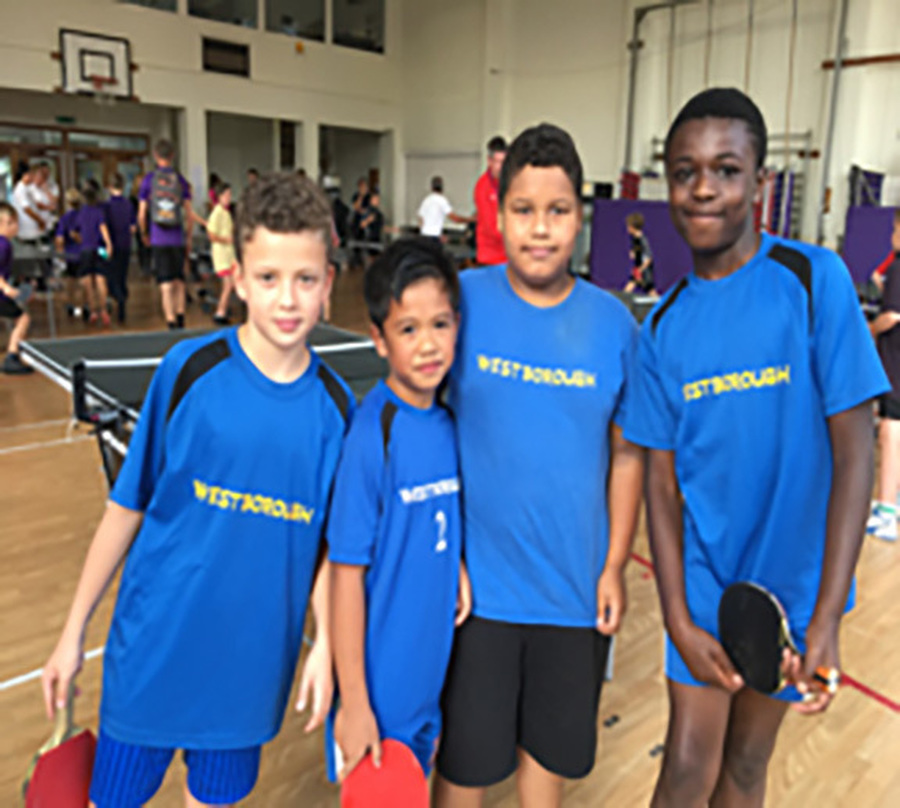 The Westborough School Sports Council 2017-2018
Two children from each KS2 class.