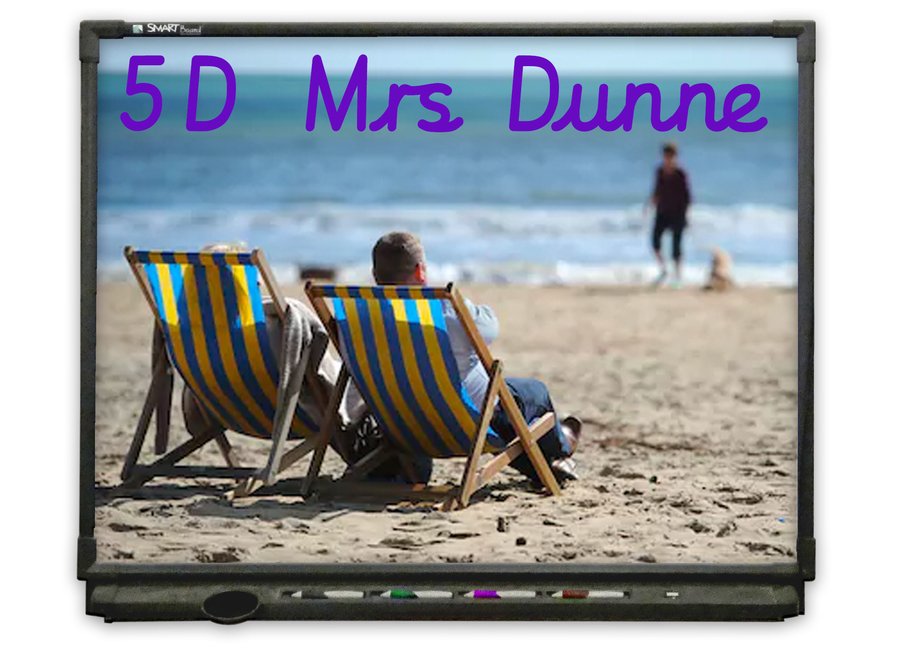 Welcome to class 5D
Your class teacher is
Mrs Dunne
Teaching Assistants in year 5 are
Louisa Wright and Louise Grenham
Year 5's Learning Support Assistant is
Mandy Bennett
We have P.E. on
Mondays and Tuesdays
so please make sure you have
a P.E. kit in school.
Welcome back!
The children have returned to school looking smart and ready for the year ahead. We have a whole school topic of 'Beside the Sea' so I'm looking forward to seeing lots of exciting work from the children around this theme!
PE
PE days are Monday and Tuesday
Thank you to those parents/carers who have provided their children with the correct PE kit already. Please ensure your child has the correct kit, including clothes for colder weather!
Spellings
Your child will be given spellings from the Year 3/4 spelling list, Year 5/6 spelling list (these are also in the children's reading records) or individual spellings to help with their writing.
Please encourage your children to learn these spellings, their meanings and use them in sentences.
The children will be tested weekly on their spellings.
Reading
Please encourage your children to read every day. They should be writing brief comments about what they have read. Please write a comment if you hear your child read.
Maths
Reasoning with large whole integers
Read, write, order and compare numbers up to one million

Round numbers within one million to the nearest multiple of powers of ten

Read Roman numerals up to M

Use rounding to estimate
Integer addition and subtraction
Use a range of mental calculation strategies to add and subtract integers

Illustrate and explain the written method of column addition and subtraction

Select efficient calculation strategies
Line graphs and timetables
Complete, read and interpret data presented in line graphs

Read and interpret timetables including calculating intervals
Multiplication and division
Identify multiples and factors

Investigate prime numbers

Multiply and divide by 10, 100 and 1000 (integers)

Derived facts

Illustrate and explain formal multiplication and division strategies such as short and long

Use a range of mental calculation strategies
Perimeter and area
Investigate area and perimeter of rectilinear shapes

Estimate area of non rectilinear shapes
Times Table Rockstars
All children have a TTR account and have the opportunity to 'play' at school. TTR can be accessed at home on tablets etc., Please encourage your children to practise their times tables regularly.
English
Writing will be taught through the theme of Beside the Sea using the texts: 'Flotsam', 'A Gift From Winklesea', 'The Tempest', 'The Odyssey', 'Jason and the Argonauts' and 'Theseus and the Minotaur'
The children will be learning:
Character and setting descriptions

Paragraphs

Poetry

Story writing

Instructional writing

Non chronological report writing

Descriptive account

Argument report
Spelling, grammar and punctuation will be taught alongside these areas of writing
Science
Develop scientific enquiry through:
Properties and changes of materials.
Solids liquids and gases.
Uses of materials.
Mixing materials.
Dissolving.
Separating materials, sieving, dissolved materials and filtering.
Reversible and irreversible changes.
Homework
Year 5 Homework Expectations -
The children will be given weekly maths homework…more information to follow…
English homework will be reading, spellings as well as weekly reading comprehension.
Please encourage your children to complete their homework as it is planned to help them with work carried out in lessons.
If you have any questions I am available every morning, outside the classroom, 8:20-8:30
and in the afternoons Monday-Thursday 3:10-3:20 Fridays 1:35-1:45