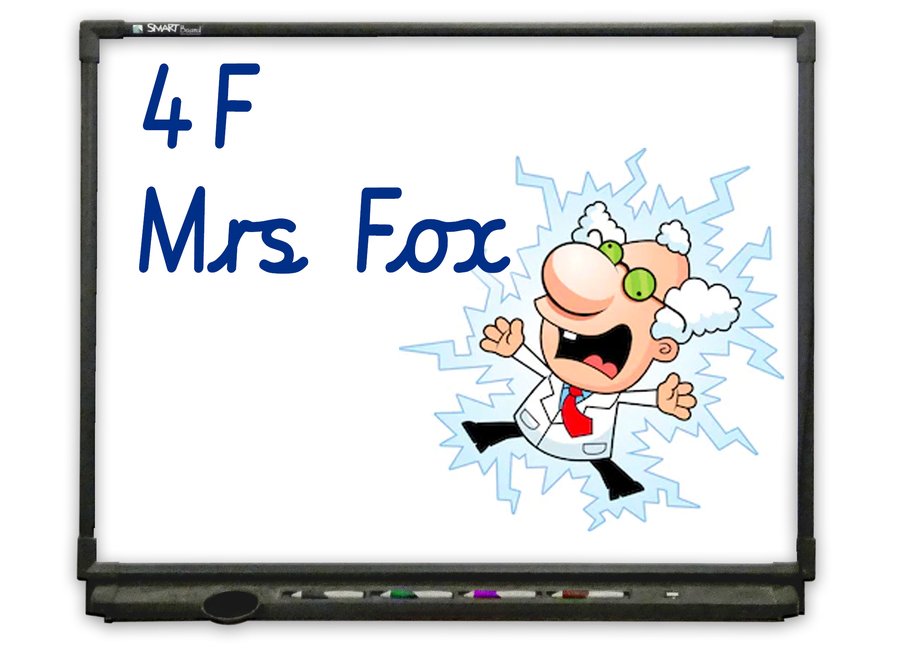 Welcome to class 4F
Your class teacher is
Mrs Fox
Our Teaching Assistant is Shelley Trimmer
and we have extra help from our Learning Support Assistant John Moore.
On Tuesdays and Thursdays
please come to school in your
PE kit. You will wear it all day.
Welcome back to our second half of the Autumn term. I hope the children have had a good rest and are ready to go again.... I have marked their writing over the half term and most of the children have achieved a good standard, so here's to pressing on to reach their potential up to Christmas.

Our topic this half term is BACK TO THE FUTURE.!
We will be looking at past inventions that have influenced and led us to the present use of objects. (I am not giving too much away!)
All areas of the curriculum will cover this topic as much as possible.

Please encourage your children to keep learning their times table, reading regularly and using 'spelling shed' to learn their weekly spellings.

Adults please continue to browse Tapestry and the class page for updates and to see what we are up to!
Dear Parents,
The year 4 teachers would like to share what we are going to be including in each area of the curriculum this half term, in:
Maths
We will be problem solving, multiplication/ division, Data interpretation. Whilst ongoing practice of times tables.
Science
We will be looking at the unit of Sound. How sound is made, sound waves and pitch.
English
In English we will be looking at poetry, using vocabulary explored around machines to produce Onomatopoeia. We will also be using this vocabulary to describe how machines work and for making sets of instructions.
Geography
Learning about the different types of climatic regions in our worlds, making and reading keys. Learning about the equator and the lines of longitude and latitude.
History
We are learning about the Victorian Era, The Industrial Revolution, where there was a lot of progress in the invention of machinery, trains, boats, and other forms of travel.
P.H.S.C.E
Internet and personal safety.
R.E.
The importance of Journeys, Life, Faith, needs and consequences. Story of Jesus.
Art and DT
We will be exploring how books are made. Annotate our own designs and using traditional writing implements.
Please talk to your children about what they have been learning…
Regards
The Year 4 Team.
*Your Topic Homework. - INVENTIONS

Over the next few weeks try some of these at home and post them on Tapestry for us to see.
Famous Inventors throughout History . Choose one Inventor to write/type about explaining what they invented and how it works.
Find a crazy invention that has been made – draw it and annotate (label) the different parts.
Sculpture Design – Make your own 3D cup/mug with a handle from recycled materials from your pink rubbish sack!
Who can you find who invented a code? Make up your own code for the alphabet and then write a message in your code for others to decipher!
Science Research – Who made the first dining fork to be used at the dinner table? – find some wire/foil and create your own stylish spoon and fork – how many peas can they hold?
Design a child's scooter of the future - think carefully about style, impact, colour, and the age of the rider that you are focusing on
(Don't forget to label all the different parts and their functions.)
Design a NEW Lego model/character using and bricks you have and take a photo to send in to school
We are using the time between

8.20 and 8.40 am

to

handwrite our spellings

each morning.
At present, spelling books are not going home. Please ensure your child is in school in order to learn these and practise their handwriting.
You are able to access the spelling shed at home to work on the spellings that your child should be learning. A list of year 3/4 words can be found in the centre of your child's reading record book.
Learning at Home Project Information Sheets
Was there an activity you really enjoyed last term, or some research you'd like to continue? All the project information and activity sheets prepared for the lockdown are still available HERE.