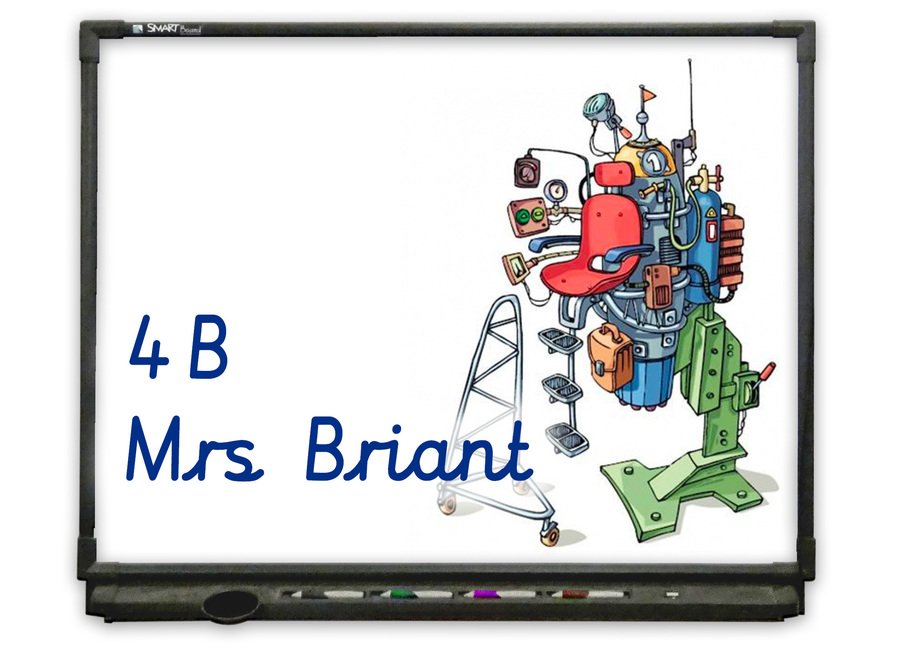 Welcome to class 4B
Your class teacher is
Mrs Briant
Our Teaching Assistant is Megan Lynch
and we have extra help from our Learning Support Assistant
John Moore.
We have P.E. on
Wednesday and Thursday

so please make sure you have
the correct school P.E. kit in school.
This is our Class Motto: T.E.A.M. - Together Everyone Achieves More.
What a great 1st Half Term we have had writing amazing Poems, making: sandals, beach huts,
parasols, clay shells, paper crabs, painting Seascapes...
( look through our classroom window and see just how busy we have been!)
Thank you so much for all the lovely Seaside Homework, along with your hard work with the Spellings and Reading.
( keep the X Tables going please.)
NEXT Half Term TOPIC : Back to the Future so... we are looking at INVENTIONS!
Your Topic Homework for this 2nd half term.
Each week we would like you to bring in one piece of Homework from the list below:
Draw and annotate a vehicle of the Future
Write an Onomatopoeic poem entitled " The Machine."
In your own words... Research and write about a famous Female Inventor.
Design, on paper, your - Ideal Bedroom.

Interview a family member about what changes they have experienced since they were your age.( As a ppt, or on paper)





NAME AND CLASS ON EACH PIECE PLEASE.



To be brought into school on MONDAY MORNINGS ONLY
Spellings are checked every Friday.
Your child will bring home their Spelling book on a Monday. Please help them to learn them by writing them out on paper in coloured pens , funny sentences, typing them quickly on the computer... which ever way helps them to remember them.
I will check them over the weekend and give them either those to relearn, or new ones.
These spellings will be individual to them enabling them to develop their writing skills.
You are all trying really hard with your Spellings-
Keep it up!
KEEP UP WITH THE TIMES TABLES PLEASE .
By the end of Year Four we need to know all of them, divides as well as multiplying.
Please remember that TTR can be downloaded as an app on your phones for free and then the children can use their logins on these as well as laptops.