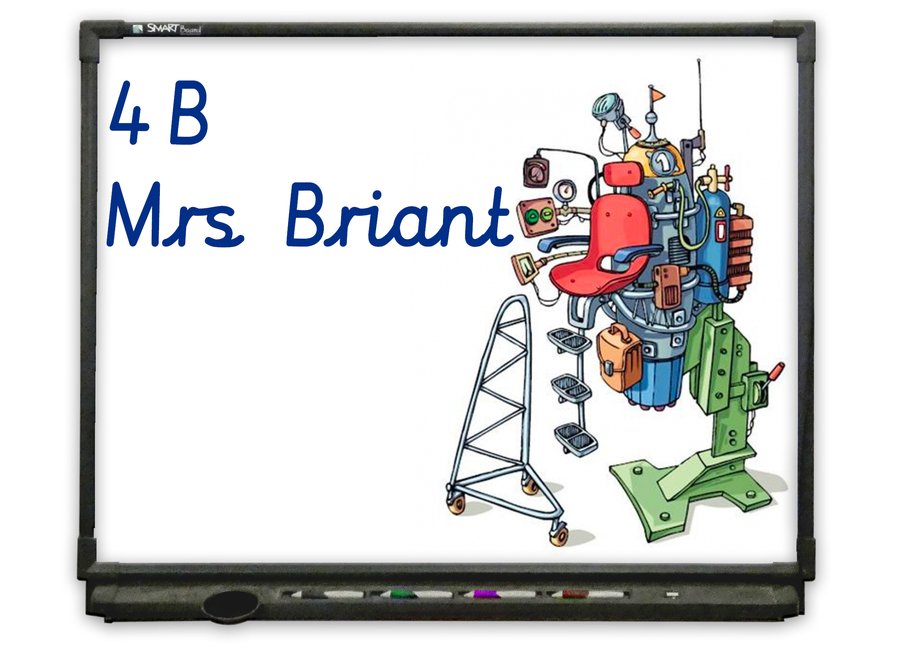 Welcome to Class 4B
Your class teacher is
Mrs Briant
supported by
Amy Hebden T.A.

and John Moore
our LSA.
NOTE: PE Days:

Tuesday and Thursday
( Please send them to school IN PE kit with trainers on already,
which they will wear all day.)
Wednesday: Outdoor Learning

Warm Coats,hats
& boots if wet please.
Please send the children with coats for lunch and break times
as the weather is getting cooler now. Thank you.
This is our Class Motto: T.E.A.M. - Together Everyone Achieves More.
Our first half term is complete, thank you for supporting the Children's learning,
and it has been good catching up by phone over these last two weeks.
This 2nd half term we take a topic for the whole time and investigate it in more detail-
The school theme is 'Back to the Future' and Year 4 are looking at Inventions - past, present and in the future.
Dear Parents,
The year 4 teachers would like to share what we are going to be including in each area of the curriculum this half term, in:
Maths
We will be problem solving, multiplication/ division, Data interpretation. Whilst ongoing practice of times tables.
Science
We will be looking at the unit of Sound. How sound is made, sound waves and pitch.
English
In English we will be looking at poetry, using vocabulary explored around machines to produce Onomatopoeia. We will also be using this vocabulary to describe how machines work and for making sets of instructions.
Geography
Learning about the different types of climatic regions in our worlds, making and reading keys. Learning about the equator and the lines of longitude and latitude.
History
We are learning about the Victorian Era, The Industrial Revolution, where there was a lot of progress in the invention of machinery, trains, boats, and other forms of travel.
P.H.S.C.E
Internet and personal safety.
R.E.
The importance of Journeys, Life, Faith, needs and consequences. Story of Jesus.
Art and DT
We will be exploring how books are made. Annotate our own designs and using traditional writing implements.
Please talk to your children about what they have been learning…
Regards
The Year 4 Team.
Our Class Author is Jeremy Strong- he writes great funny stories. We have finished
" My Dad's got an Alligator" and read two of the The Hundred Mile an hour Dog series.
We did all this in the FIRST HALF of the AUTUMN TERM. We are AMAZING!
WEEK 1: ALL ABOUT ME! - has been a great starter topic, there were amazing things that we found out about ourselves during this week!
WEEK 2: A Geography topic on India . We now know how to tell the difference between, Asian and African elephants!We looked at Saffron and how it is collected and dried ready for use in cooking and dyes. We know how the Indian national flag came to be, and some facts about the Country itself, phew, what a busy week! LOOK on Tapestry to see some of our work!

WEEK 3: This week is all about an Artist - Wassily Kandinsky, who created amazing, geometric influenced art whilst listening to music - so a week all about shapes coming up and listening to different music styles! A great week happened with: super music inspired art , work on naming polygons with a large numbers of sides, writing about the 'Imaginator Machine!' Ask the children about what they did. PHOTOS ON TAPESTRY.
WEEK 4: History Week , all about the 1940's - where we have learned about Air raid Shelters ( and heard the siren), Pre-decimal money, Spitfires, The Blitz, heard Winston Churchill's famous speech, made suitcases for Evacuee children and looked at clothing styles in the 1940's. Photos on Tapestry

WEEK 5: Science, Technology and Maths . This week we found out about the structure and strength of paper. During the experiments, the 3D paper Piers were tested to collapsed state, with the results kept and conclusions made.
WEEK 6: All about Languages- we have been learning about languages, other than English, spoken by those in 4B, how they are written,
and trying to speak different languages, these included: Afrikaans, Zulu, Polish, Bangali and French!. Videos on Tapestry.
WEEK 7: We have explored what makes a good Story, seeking to develop our own story writing skills .Look on Tapestry to see some examples In Maths - Our Multiplication/Division skills are progressing - needing a lot of practice though!
*Your Topic Homework. - INVENTIONS

Look up the Weekly theme from Week 7 to get ideas.
Over the next few weeks try some of these at home
and post them on Tapestry for us to see.
Famous Inventors throughout History . Choose one Inventor to write/type about explaining what they invented and how it works.
Find a crazy invention that has been made – draw it and annotate (label) the different parts.
Sculpture Design – Make your own 3D cup/mug with a handle from recycled materials from your pink rubbish sack!
Who can you find who invented a code? Make up your own code for the alphabet and then write a message in your code for others to decipher!
Science Research – Who made the first dining fork to be used at the dinner table? – find some wire/foil and create your own stylish spoon and fork – how many peas can they hold?
Design a child's scooter of the future - think carefully about style, impact, colour, and the age of the rider that you are focusing on
(Don't forget to label all the different parts and their functions.)
Design a NEW Lego model/character using and bricks you have and take a photo to send in to school
READING:
Please send the reading book and record book in EVERY day, even if they haven't had time to read.
Great reading is happening and the children are keen to show that someone has heard them at home - they have their ZPD levels on the front of their reading record and quizzing is going well.

Look at the Year 3/4 Common exception words LINK below and see how many new ones you can spell.
Thank you.
Remember...

Please use Spelling Shed !

AND Accelerated Reader - to Quiz at home!
Spellings are currently being assessed

and those needed to be learned are being sorted.
KEEP UP WITH THE TIMES TABLES PLEASE .
Key ones to learn: - x3, x4,x6,x7 x8, x9, x12
By the end of Year Four we need to know all of them, as we have a formal Assessment to complete, dividing as well as multiplying please!

Please remember that TTR can be downloaded as an app on your phones for free and then the children can use their logins on these as well as laptops.