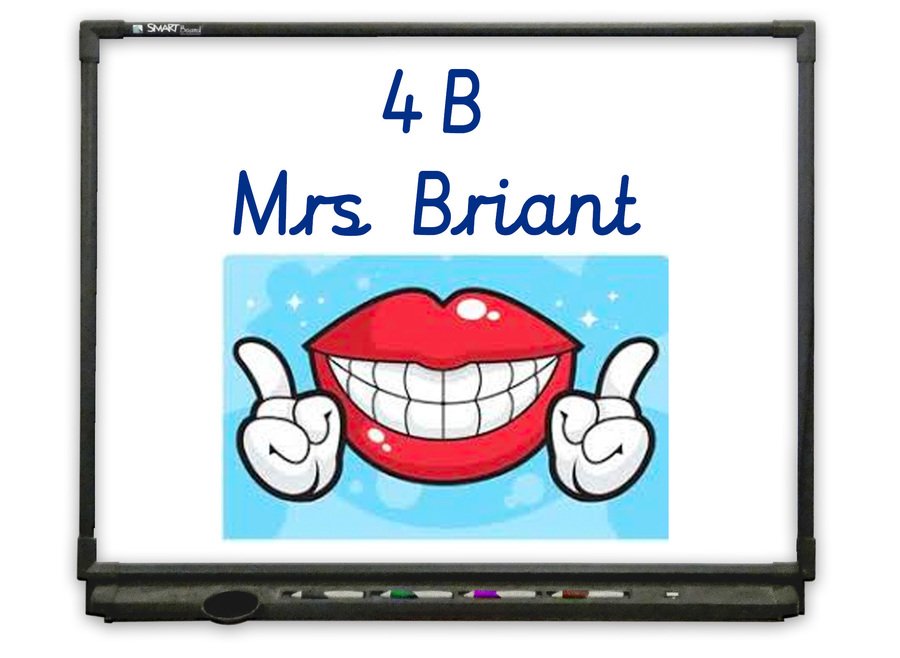 Welcome to Class 4B
Your class teacher is
Mrs Briant
supported by
Amy Hebden T.A.

and John Moore
our LSA.
NOTE: PE Days:

Tuesday and Thursday
( Please send them to school IN PE kit with trainers on already,
which they will wear all day.)
Wednesday: Outdoor Learning

Warm Coats,hats
& boots if wet please.
Please send the children with coats for lunch and break times
as the weather is getting cooler now. Thank you.
This is our Class Motto: T.E.A.M. - Together Everyone Achieves More.
Thank you for all your support over this last half terms remote learning.
Dear Parents,
2nd Spring half term - our topic will be: 'Let me tell you a Story'.
English will focus on different Genre of books, the language and 'plots' of the stories and in accordance with 'Vipers' we will be looking closely at the vocabulary, inferences from the text, make predictions, explain our preferences, seek evidence and sequence the order of the stories.

Our

Maths

focus for this half term will be measuring Weight and Capacity followed by Time. Please encourage your children to 'measure' ingredients for baking/cooking and use 'time' in practical ways whilst they are at home, as you will be able to show the use of these in more practical ways than the oak lessons.

In

Science

we are looking at Teeth and Eating. There will be some activities on the timetable for the children to find out information.
Shelley has found out that Southend Library are offering some 'online' resources that you can access whilst the library is closed.
She will send a link out for this in a separate e-mail.
Geography and History in these areas of the curriculum we will be identifying the places and settings through maps and using previous knowledge of continents we have explored as well as the era in which the stories are set.
In

French

we will explore colours, size, parts of the body, in order to describe.
In

Art

we will be looking at illustrations and our skills from making volcanoes etc will come into use when we create a monster from recycling for

DT.
Some of the stories that we will be reading and exploring will be stories from other faiths, as well as the Easter story to complete our R.E.
We do hope that you will make some new discoveries with your children
whilst working with them to complete their homework.
REMOTE LEARNING 22nd February & 1st March 2021
The Microsoft Team links have been sent to your personal email address.
Dear Parent/Carer,
Please find below the Remote Learning for the next two weeks.
If you need anything printed or further help resources. Do not hesitate to contact the Year 4 staff through the class emails: 4F@westborough.southend.sch.uk , or 4B@westborough.southend.sch.uk .
Kind regards,
The Year 4 Staff
Microsoft Teams meeting 4B Feedback meeting every day 10.30-11.00am
Join on your computer or mobile app
Microsoft Teams meeting 4B Story Time meeting every day except Friday 2.30-3.00pm
Join on your computer or mobile app
__________________________________________________________
READING:
Please send the reading book and record book in EVERY day, even if they haven't had time to read.
Great reading is happening and the children are keen to show that someone has heard them at home - they have their ZPD levels on the front of their reading record and quizzing is going well.

Look at the Year 3/4 Common exception words LINK below and see how many new ones you can spell.
Thank you.
Remember...

Please use Spelling Shed !

AND Accelerated Reader - to Quiz at home!
Spellings are currently being assessed

and those needed to be learned are being sorted.
KEEP UP WITH THE TIMES TABLES PLEASE .
Key ones to learn: - x3, x4,x6,x7 x8, x9, x12
By the end of Year Four we need to know all of them, as we have a formal Assessment to complete, dividing as well as multiplying please!

Please remember that TTR can be downloaded as an app on your phones for free and then the children can use their logins on these as well as laptops.