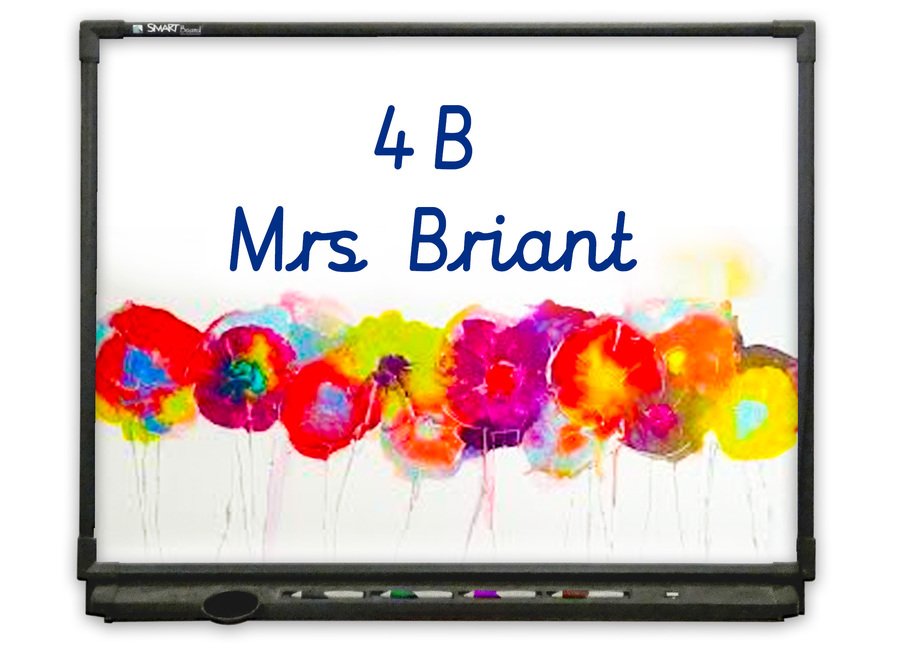 Welcome to Class 4B
Your class teacher is
Mrs Briant
supported by
Amy Hebden T.A.

and John Moore
our LSA.
NOTE: PE Days:

Tuesday and Thursday
( Please send them to school IN PE kit with trainers on already,
which they will wear all day.)
NO PE BAGS ARE NEEDED IN SCHOOL AT THE MOMENT.
Wow! It has been lovely seeing the children back, smart and ready to learn. We have had great fun and a good laugh every day!
Our Class Author is Jeremy Strong- he writes great funny stories.
They have done amazingly well adapting to all the new routines and classroom organisation - WELL DONE !
This is our Class Motto: T.E.A.M. -

T

ogether

E

veryone

A
chieves

M

ore.
WEEK 1: ALL ABOUT ME! - has been a great starter topic, there were amazing things that we found out about ourselves during this week!
Look on Tapestry to see our carefully cut out skeletons!

WEEK 2: is our Geography topic on India . We now know how to tell the difference between, Asian and African elephants!We looked at Saffron and how it is collected and dried ready for use in cooking and dyes. We know how the Indian national flag came to be, and some facts about the Country itself,
phew, what a busy week! LOOK on Tapestry to see some of our work!

Monday 21st September - WEEK 3: This week is all about an Artist - Wassily Kandinsky, who created amazing, geometric influenced art whilst listening to music - so a week all about shapes coming up and listening to different music styles!
I will keep you updated on the theme each week. (if you want to get ahead...have a peep below)
Week 1 All about ME! *Week 2 : Geography Theme: India * Week 3: Art /Music , Wassily Kandinsky * Week 4: History Week - Decade 1940's * Week 5: Science /Technology .... * Week 6 Different languages

Your Topic Homework.
Look up the Weekly theme from above to get ideas.

Please keep up with reading at home as the first homework task.
Please send the reading book and record book in EVERY day, even if they haven't had time to read.
Thank you.
Remember...

Please use Spelling Shed !

Spellings will be coming home soon
for each child to learn.
KEEP UP WITH THE TIMES TABLES PLEASE .
By the end of Year Four we need to know all of them,as we have a formal Assessment to complete, divides as well as multiplying please!

Please remember that TTR can be downloaded as an app on your phones for free and then the children can use their logins on these as well as laptops.