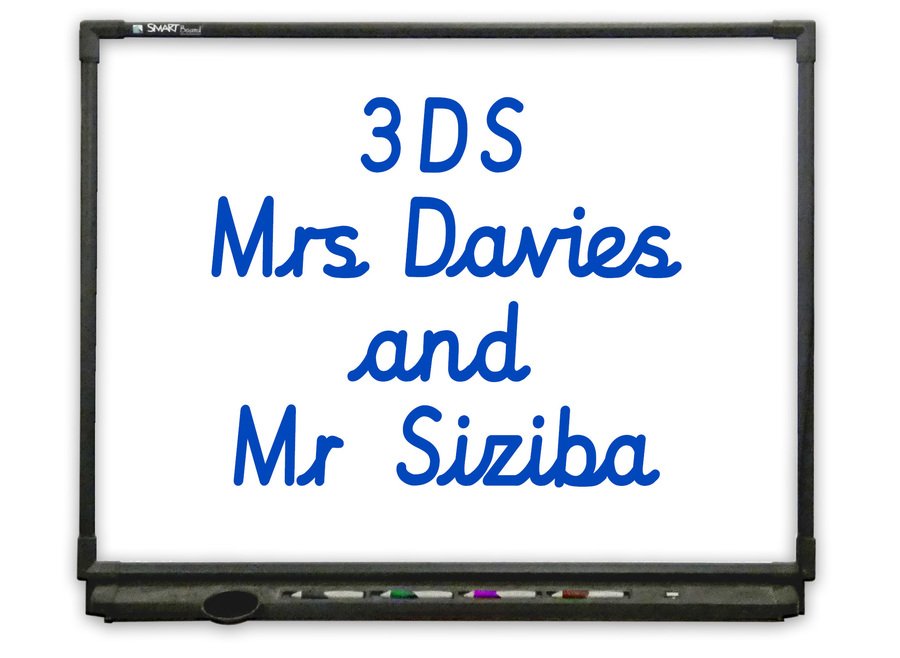 Welcome to class 3DS
Your class teachers are
Mrs Davies and Mr Siziba
We also have extra help in year 3 from our Teaching Assistant
Jo Canty
and from our Learning Support Assistant
Kylie Sparks.
We have PE on Thursday and Friday
Your child must wear their PE kit to school on this day, as they are unable to change in class or the changing rooms.
They are able to wear joggers, leggings or tights under their shorts on PE days, just in case the weather is not good. If they wear their jumper as usual they will be warm enough.
Welcome back to a new school year!

We are pleased that everyone has settled into Year 3 extremely well! The children have enjoyed seeing their friends and have all found the 'new' way of school life easy to adapt to. We have been teaching weekly topics, which have been successful with the children!
Week 1- All about me.

This was a fabulous opportunity to get to know the children and ensure that each child felt happy being in the new year band with new teachers. The children took part in discussions about themselves, created self-portraits and many other creative activities! We were really impressed with the children's attitude to learning and how quickly they adapted to completing work set.
Week 2- Geography topic (Australia).

We looked at globes and world maps, located The United Kingdom, other countries and continents on maps too. We compared the UK to Australia and New Zealand, focusing on Australian states, territories and landmarks. This was a wonderful opportunity to learn about Aboriginal Dreamtime stories and create our own dot paintings!
Week 3- This week we are going to study artists.

In particular we are researching Mondrian. Who he was, when and where he lived, explore some of his famous work and then create our own art based upon some of his inspirational work.
This week

we will be introducing most children to our reading scheme, Accelerated Reader! We will be assessing the children's reading over the week and be providing the children with a new reading book which is appropriate to their reading ability. This scheme supports the children by monitoring their comprehension skills. Each time they finish thier book, they complete a quiz on a laptop and it assesses their understanding of what they have read. They are awarded points for each book that they read. At the end of the year the children have a celebration assembly to reward thier efforts, enthusiasm and progress made in reading! We will send you more information regarding Accelerated Reader.
Next week is History week!

More information on that to follow!
Homework-
Reading every night.
We will be introducing the children to Spelling Shed and Times Table Rock stars over the next week. They will be provided with logins to use at home and at school too.
Learning at Home Project Information Sheets
Was there an activity you really enjoyed last term, or some research you'd like to continue? All the project information and activity sheets prepared for the lockdown are still available HERE.