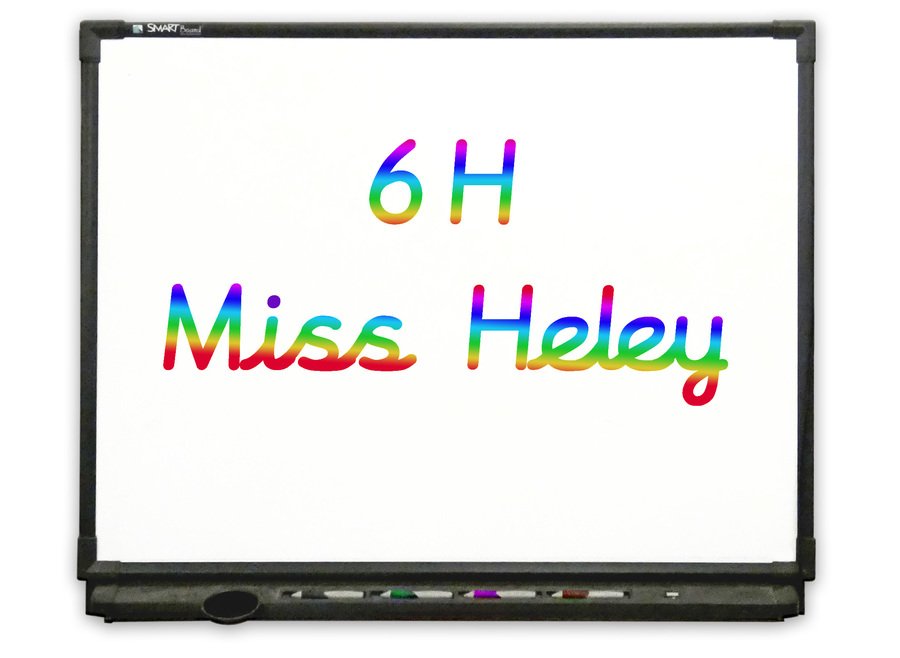 Welcome to class 6H
Your class teacher is
Miss Heley
We also have extra help from
Mr Siziba and Ruth Taylor
We have P.E. on
Mondays and Fridays
Please make sure your child has appropriate and clearly labelled P.E. kit in school.
A very warm welcome to 6H. I am sure that the children have returned to school eager to learn and take on new challenges!I am looking forward to meeting them and getting to know them. Please do not hesitate to contact me if you have any concerns or queries. I will be available on the playground for the first and last ten minutes of the day. Further information about homework will be available on this page soon.
Homework
Year 6 Homework Expectation
Essential Core Skills – Maths - once a week
Each week, on Fridays, one sheet of practice work will be set in maths. This work will relate to the work completed in class and will have been identified by the teacher as an essential skill in need of practice. The completed work should be brought into class by the following Friday, when it will be checked and marked together.
Accelerated Reader – personal reading – 20 minutes per day
The Accelerated Reader programme recommends that children read for twenty minutes every day. The children should record their independent reading in their Reading Record Books, which will be monitored by class teachers. As part of this programme, the children can also be read to by a parent or family member. This too can be recorded in Reading Record Books if you wish. Children should ensure that their reading books are in school EVERY DAY as they will be needed in class.
Spelling Lists for Years 3,4,5 and 6 – regular and on-going
On a Thursday, children will receive weekly spellings to practise at home. These will be reviewed on Wednesday.
Times Tables – regular and on-going
The children need to know their tables quickly and mixed up. Regular practice is essential.
Topic Projects
Each term, one open-ended creative project will be set. This will relate to the topic that is being studied in class that term. The children usually have approximately six weeks to complete work for this project, which is then shared with the year band in a special assembly.
| | | | |
| --- | --- | --- | --- |
| Make a map of your own volcanic island | Research and present the story of the island of Krakatoa. | Write some diary entries imagining that you lived in Pompeii. | Draw and write about an animal that is native to a volcanic island. |
| Write an article about the Canvey Island floods of 1953. | Imagine you are a news presenter. Write ten questions that you would ask someone who has survived an event such as an earthquake or volcanic eruption. | Make a graph or chart… (It could show the height of famous volcanoes for example.) | Design a building that would be capable of surviving a specific natural event. Draw it or make a model. |
| Find a poem or an extract from a story that fits with this theme. Handwrite and illustrate it beautifully. | Make your own model of a volcano or earthquake or tsunami. | Make a poster that tells people in school what to do in the case of a natural disaster. How should they stay safe? | Imagine that you had to be evacuated from your home. What ten things would you take with you? And why? |
| Your own idea... anything at all! | Make a timeline of dramatic earth events of the last century or millennium. | Collect pictures and articles about natural events from the newspapers and make a collage. | Write and illustrate your own version of the bible story of Noah. |
We are really looking forward to seeing some beautiful work from you this half term.