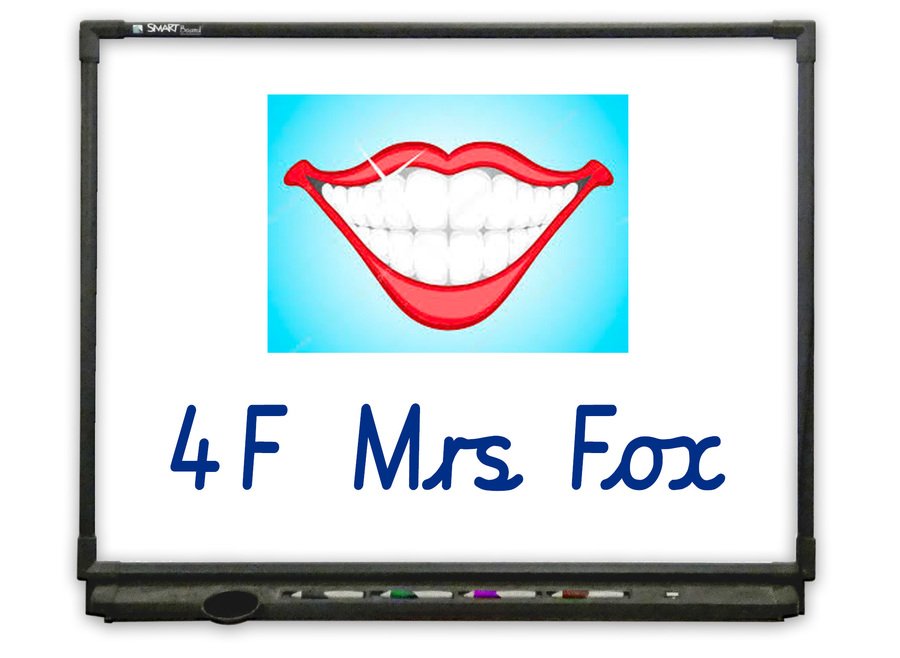 Welcome to class 4F
Your class teacher is
Mrs Fox
We also have extra help at different times during the week from
John Moore.
We have P.E. on
Tuesday and Thursday
so please make sure you have
a P.E. kit in school.
Welcome back to our last half term of the year. It is hard to believe that the children will be moving up to year 5 soon. However, there is still lots to do....

Our new Topic this half term is 'Land, Sea and Sky'. We will be learning a lot of Geography and History through this topic and one of two exciting art projects will be linked to this area. Our art will be produced by using recycled plastic lids and junk jewellery, so please keep sending these in. In particular we are looking for tall, wide and interestingly shaped lids. Thank you in advance.

Our Science topic this time is about teeth. We will be comparing the shape and use of our teeth to that of other animals and learning about how to keep our teeth clean and healthy.
Please remember that if you have any questions, I am on the playground 10 minutes before and after school to answer them. We start school promptly at 8.30 am so I am unable to speak after this time.
Information about HOMEWORK
Your Topic Homework for Summer Term 2
Land, Sea and Sky
Choose one piece from the list below each week.
Invent your own animal. Where does it live? What does it eat? Is it another animal's prey? Etc. Please draw, label and colour your creature and give it a name.

Design and/or make your own miniature garden.

Find out about, and draw, the lifecycle of a frog, butterfly or plant, for example a sunflower.

Write/draw a food chain from producer to predator.

Make an observational painting, with facts, of a plant or animal.

Choose a habitat and describe what might live there and what it might feed on.

Make up a song, rap or poem about photosynthesis.
As well as the topic homework, we do expect the children to read at home with an adult to help advance their word recognition and understanding.
We also ask that times tables are practised with parents. By the end of year 4 we are expecting that the children know all of them, and are able to recall them in the application to solve mathematical equations quickly.
'Please remember that TTR can be downloaded as an app on your phones for free and then the children can use their logins on these as well as laptops.'