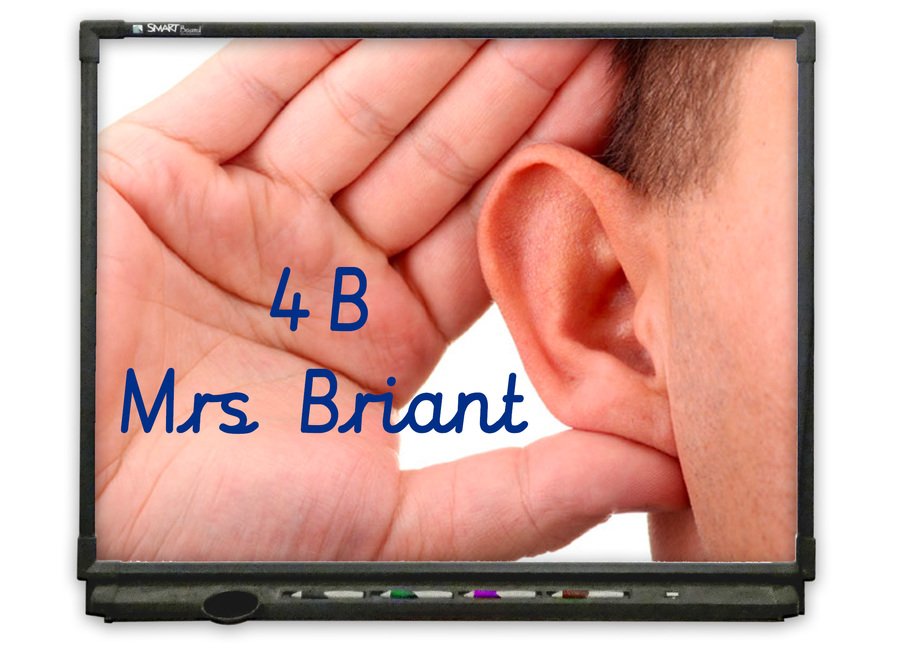 Welcome to class 4B
Your class teacher is
Mrs Briant
We also have extra help from John.
We have P.E. on
TUESDAY and THURSDAY

so please make sure you have
a school P.E. kit in school.
This is our Class Motto:
T.E.A.M. together , everyone achieves more. (They really do!)
Another great half term! Thank you all so much for the Painting,Pictures and Photos Homework,
it is hanging up in the Classroom and looking good. Your support in helping the spellings to be
learned is much appreciated and has enabled the children to develop their writing in a deeper way.
In Science for the first half of the Spring Term we are looking at SOUND.
This involves creating/recognising sounds,learning about pitch,rhythm and beat
as well as appreciating/composing music.
Our next Topic in Year 4 - Inventors and Inventions
this is a great topic for ideas to become reality- think out of the box!
Your Topic Homework for this half term.
Inventors and inventions
Choose one piece from the list below (coming soon), each week,
to be brought into school on MONDAY MORNINGS


Inventions that changed the world. Choose one piece from the list below, each week, to be brought into school on MONDAY MORNINGS
Draw and annotate a vehicle from the future.

Write an onomatopoeic poem entitled 'The Machine'.

Research and write about (in your own words) a female inventor.

Design your ideal bedroom.

Interview an adult family member about what changes they have experienced since they were your age. Present the information either as a video, recording or written up on paper.

Draw or paint a symmetrical spaceship that could visit Mars. Draw on squared paper that can be given to you by me.
KEEP UP WITH THE TIMES TABLES PLEASE -
we are looking at
multiplication and division this half term.
'Please remember that TTR can be downloaded as an app on your phones for free and then the children can use their logins on these as well as laptops.'