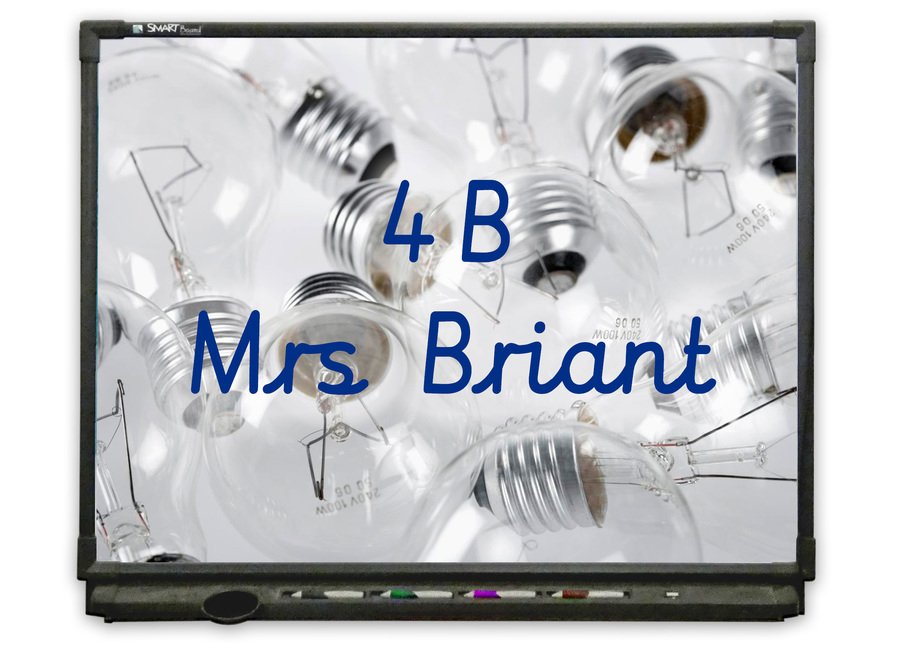 Welcome to class 4B
Your class teacher is
Mrs Briant
We also have extra help from John, Julie
and Mrs Puncher.
We have P.E. on
TUESDAY and THURSDAY

so please make sure you have
a school P.E. kit in school.
This is our Class Motto:
T.E.A.M. together , everyone achieves more. (They really do!)
What a great half term! Thank you all so much for the amount of high quality Egyptian Homework,
it is hanging up in the Classroom and looking beautiful. Your support in helping the spellings to be
learned is much appreciated and has enabled the children to develop their writing in a deeper way.
In Science for our second half term we will be looking at Circuits and Electricity,
a great topic for the darker days.
Our next Topic in Year 4 - Paintings,pictures and photos
and we will be looking at images across cultures and different media choices
Your Topic Homework for this half term.
Pictures,paintings and photos
Choose one piece from the list below, each week,
to be brought into school on MONDAY MORNINGS

1 Who were the impressionists? Show a timeline of the most famous ones
2 Make a picture using the Pointillist technique!
3 Research a female artist, her style,media,country,subject
4 Cut up photos from a magazines into small pieces and rearrange them into a collage in your own style.
5 Construct a sculpture of your choice and give it a name
6 Look up the word 'abstract' and create a picture, drawing or painting in that style.
7. Cut out your favourite photo from a magazine and explain carefully why you chose it.
KEEP UP WITH THE TIMES TABLES PLEASE -
we are looking at
multiplication and division this half term.
'Please remember that TTR can be downloaded as an app on your phones for free and then the children can use their logins on these as well as laptops.'